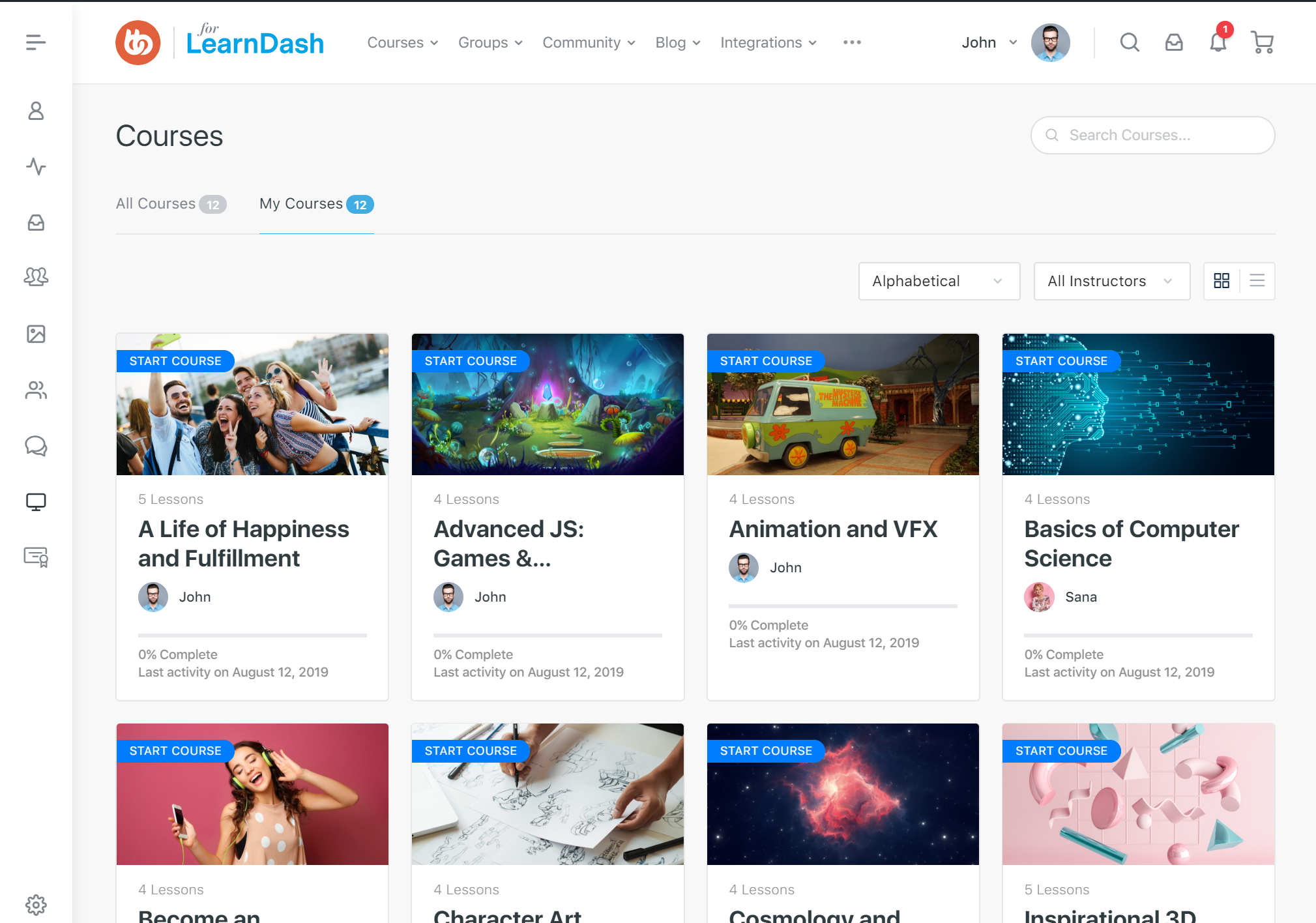 Learndash is the most popular Learning Management System for WordPress. It's functionality for administering and organizing course material is outstanding. But getting it to look great and interact with a lot of other ingredients that you might want is definitely a learning curve. That's where BuddyBoss's Social Learner theme came in. 

As a learning design agency, a lot of our clients have been using it at our suggestion. So we were filled with some trepidation when we heard that BuddyBoss's new initiative in the WordPress learning space was not an incremental Social Learner theme update but a major exponential rethink from a theme to a platform.
This makes switching from old to new a bigger decision and longer process than merely clicking 'update'.
So let's weigh up some the gains of the BuddyBoss platform against the issues we persevered with using Social Learner.
(Some of the) issues we had with Social Learner:
1. A Mighty Host (of plugins)
Social Learner helped weave together a raft of  elements into a generally functional whole that wrapped visual, social, community and forum elements around the core of Learndash. This required a mighty host of plugins. Chief among them were two pretty clunky old open-source WordPress staples:  the social network structure of BuddyPress, and BBPress's forum architecture. 

And that was a catch. Raw BuddyPress is a leviathan that can really slow a site down if you don't pay careful attention to precisely how and where you are hosting it. Then to get it to play well, or suit a particular client case, it required a lot of add-ons. Just glancing down the list on one of our staging sites I can see we have an unholy alliance of more than ten BuddyPress related add-ons to help customize, organize, sanitize  and privatize performance.


2. Clunky Forums

Then there is the sheer clunkiness of the BBPress forums plugin.  It would not take long for any of our clients who wished to venture into BBPress territory to come running out screaming. So we'd have to find more agile alternatives or non at all. The ungainly and out-dated feel and functionality of the forum never sat well with the rest of Social Learner's clean and friendly vibe, or simply with the way we expect conversations to quite work these days.
3. Cheatomizations
And oh. All the CSS-ing. While there were many great settings for adjusting nuance, we found that we needed to add a lot of additional CSS to get it do just what we, or our clients, wanted. That can also have an impact on speed without being really careful to avoid overwriting and redundancy.
But Still…
…Social Learner was a great basis to work with and a look and feel that our clients and their customers loved so we didn't mind so much if we were sometimes battling against specific aspects of it to make it work and behave as we needed. Even without the social elements it was still awesome. We were fans.
Meanwhile…
… BuddyBoss were listening hard and building something wonderful to replace Social Learner.
The new version is not a theme that wraps around a host of plugins, but a platform unifying a well-tethered raft of functionality.

As both BuddyPress and BBpress had been languishing in an open-source limbo for several years, BuddyBoss took over direct control of development. They kept them both open source and freely available in isolation, but were able to seriously upgrade and update not only the functionality, but the way they play together as a whole. So no longer the armada of addons. Now there is just one install (+ the Boss child theme) that keeps everything under one roof.

This takes care of the big stuff, but there are also nice little thoughtful touches like including the ability to switch to specific user views (essential in development, trouble shooting and support) which used to require a separate plugin that always felt a bit of a hack.

The BuddyBoss Platform builds solidly on the  Social Learner/Boss look and feel, playing way more nicely both front-of-house and under the hood.  
(Some of the) things we love about the BuddyBoss Platform:

1. It's Perfect for the Learning Experience Approach
Ok, a Learning Experience System is a bit of hypey buzzword meaning a site where learners select, netflix like,  whatever they want on offer as opposed to being assigned one specific course. Learndash always allowed this but the BuddyBoss platform makes it looks so good, not only allowing for courses but also discussions to be browsed selected, joined or purchased.


2. Discussions
It's now really easy and intuitive to set up discussions that either work independently or are directly associated to a particular course. It may have just been me, but with the Social Learner plugin constellation, tying together the various groups and discussions was awkward.  It was something I had to practically relearn every time I needed to set up new groups.

Now, the flow between Learndash course groups and associated discussions is intuitive and clear. The discussions grid allows learners to browse and join discussions with ease while a learner's own digest of discussions is an eye-candy colour-coded at-a-glance list. New comments and replies are created in  little pop-up windows that play more nicely than their Facebook or Linkedin equivalents.

3. Tutorials
A really lovely and smart touch, especially considering this is a learning platform, is that all the key under-the-hood functionality areas are accompanied by a short tutorial video embedded directly in the page. Previously, although support was good, ascending the learning curve could be a little bewildering. Now there is an embedded clarity to get you off and running or to remind you when you return.
4.  Sharing Stuff
MediaPress plugin (a Buddypress product) was a decent enough plugin, but never quite sat well with the rest of the pieces. This has now been embedded more integrally into the platform allowing groups to share media both on their own profile and with their groups. Again it looks and plays great. That said, video would be a nice addition to the selection of image gallery options, even if just a way of displaying Vimeo or YouTube links.
5. Learner-Tweakable Lesson Space

Something that initially drew us to Social Learner was the use of the left and right 'white space' to house both the BuddyBar – a customizable list of menu options to the left, and the WordPress sidebar placed way off to the right rather than occupying essential real estate in the body space.  These looked great but on narrower displays like a Surface Pro, they still tended to squeeze the content a little. That's fine for simple text and video, but add something more sophisticated to the mix like, ahem, our Learnbase Video Lesson Maker, and the body space was getting just a bit cramped, if not squeezed.  The BuddyBoss platform gives you the ability to 'full screen' the learning area which elegantly slides the widget panels out of view, but keeps them there in the wings for whenever they are needed.
With Buddy Bar and Course Panels…
…and at the flick of a switch…
6. Admin
The integrated platform is such an improvement on Social Learner's more fragmented umbrella admin options which are neatly stacked and easily identified under the single BuddyBoss banner. Formally you had to search for them under multiple plugin sub menus with frequently overlapping terminology for different functionality.

Theme options are similar to before but with enhanced features, many of which answer the old 'if only there was' experience of Social Learner.
Where the new platform approach really stands apart though is in the Components section where you can turn on, off or modify all the salient functionality. It's here where in each section and even each subsection you'll find the friendly video tutorials.
The amount of choice is these sub-settings is really refreshing. Client requests that previously would have taken either an additional plugin, a build, or having to resort to CSS to simply hide things is frequently now doable with a single toggle, which brings me to the biggest point….
7. Privacy
Because the BuddyBoss social framework was, well, a social framework it really wanted to be social, and public facing. Keeping the site private to registered users only required extra plugins with their own array of settings.  This is now achieved with just a single toggle.
And the very mostly good news….
Back to that trepidation about how to transfer a site from the Social Learner theme to BuddyBoss Platform. It's essentially pretty easy. As usual there is a concise video that guides you through the steps. It probably takes no more than about 15 minutes for the core of the transition.

However there is a  caveat here in terms of WordPress page builders. Whereas Social Leaner included Visual Composer (WP Bakery) within its pantheon of plugins, this has now been rested in favour of the now more popular Elementor (as well as the still glitchy Gutenburg of course). Elementor is clearly the better choice these days.
But that does present a challenge if you leaned heavily on Visual Composer on an older site as Visual Composer leaves it's own thick trailmix of shortcodes liberally scattered across your code, rendering it useless once you turn Visual Composer off. So your choice is to stick with with Visual Composer which is not as supported by BuddyBoss (though they told me it's totally doable), or make the jump to Elementor (which leaves clean code) in the interests of future-proofing. If you choose the latter you'll have to rebuild anything you used Visual Composer for, so it's a site by site choice. For us, the more or less learning-only sites are generally a no-brainer, but the bigger learner/business platforms we have made are going to take quite a rebuild.
With that growth pain of a caveat aside, the new BuddyBoss platform is set to be one of the key go-to choices in the WordPress learning market, and will probably also further boost the competitiveness of Learndash itself and of WordPress as a learning site option. Is it a game changer? Yes: it enables learning design agencies and go-it-alone course makers to go way further way faster without having to resort to coding workarounds. This is a really big deal for generalist learning designers as well as their clients.
Does it make the actual lessons themselves any better? Well no. That's what we are here for 🙂