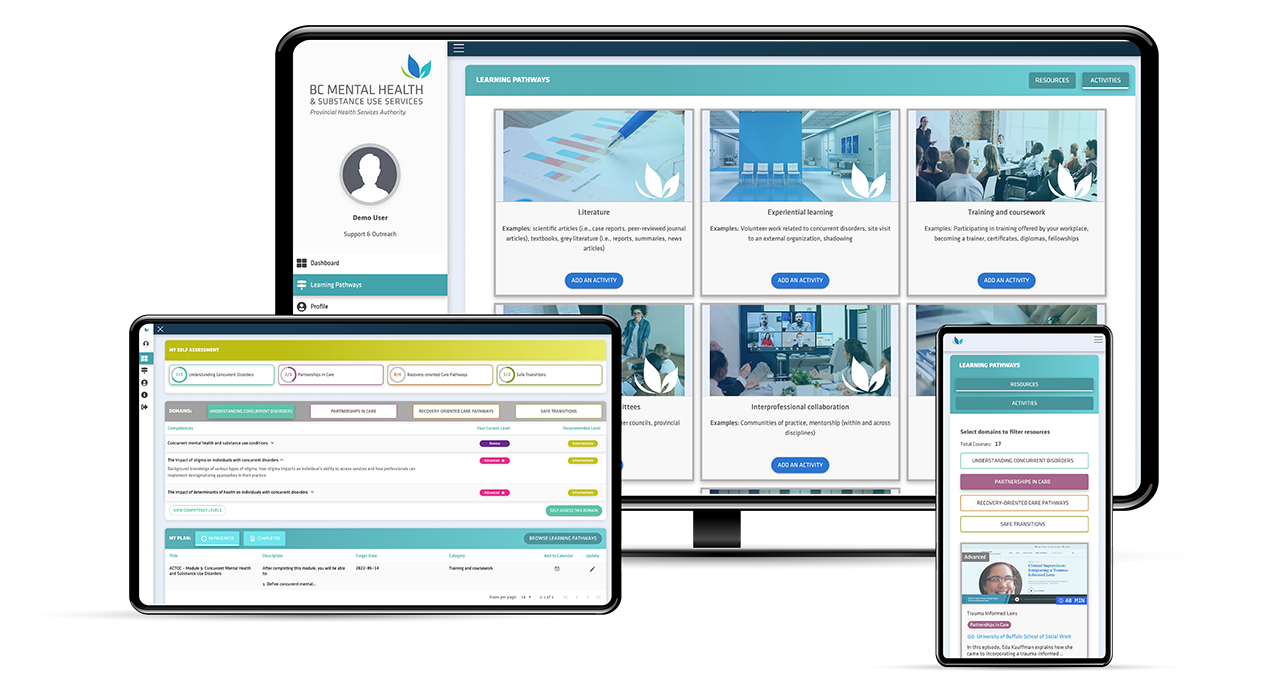 The Challenge

BC Mental Health and Substance Use Services approached us to build a web application to support lifelong learning for professionals of many levels working with mental health and substance use patients.
BCMHSUS had already created the prototype in a PDF form. It enabled professionals to assess their current competencies pertaining to domains of practice and knowledge. It also provided a large selection of recommended external courses. Our task was to transform this into a web application, creating a personalized experience for each individual user. The application will allow users to track their progress and development over time. 
Our Solution
This was a big project to be delivered in a short amount of time. To establish focus from the get-go, we worked with the team to define a project strategy informed, lightly, by a holacratic approach. This established purposes, responsibilities and areas in which each sub-group or individual could operate with freedom without overstepping into another team's expertise.

The combined BCMHSUS and Learnbase team worked like a dream. Learnbase defined the technology, UI and UX and API design. Drawing on and developing the original PDF stylings, we launched quickly into developing the application. Meanwhile the BCMHSUS team further honed and defined the competencies with clear examples for self-assessment. They also effected significant and rapid stakeholder engagement and feedback- a tremendous task.
We experimented with a new embedded way of applying a React frontend to a Drupal backend. This gave us a gorgeous and extremely fluid interface.

When we soft-launched the application for initial testing the response was extremely enthusiastic (and bug-free)! We launched the site in mid- May 2022.
Quotes from Provincial Health Services Authority Press Release:
"Concurrent disorders are among the most challenging and complex to understand and to treat. There are excellent materials available to educate people about substance use disorders, others for complex mental health disorders, but fewer that deal with both. What we've done here is to create one educational resource that integrates an evidence-based concurrent disorders competency framework with a tool that supports ongoing, self-directed professional development."
Rick Johal, Clinical Resource Therapist, BCMHSUS
"People with lived and living experience of mental illness and substance use are the real experts. By combining their experiences and perspectives with those of our clinicians, educational and medical experts at BCMHSUS, we can create resources that truly benefit those who need them. This toolkit is an example of that."
Justine Patterson, Executive Director of Knowledge, Innovation and Partnerships, BCMHSUS
"This raises the bar for professional education related to concurrent disorders. No matter where you are in the province – from Surrey, to Campbell River, to Dawson Creek – and no matter what your occupation is: if you work with people with concurrent disorders there is something in the toolkit that will help you enhance your skills."
Justine Dodds, Senior Director of Inter-Professional Practice, BCMHSUS