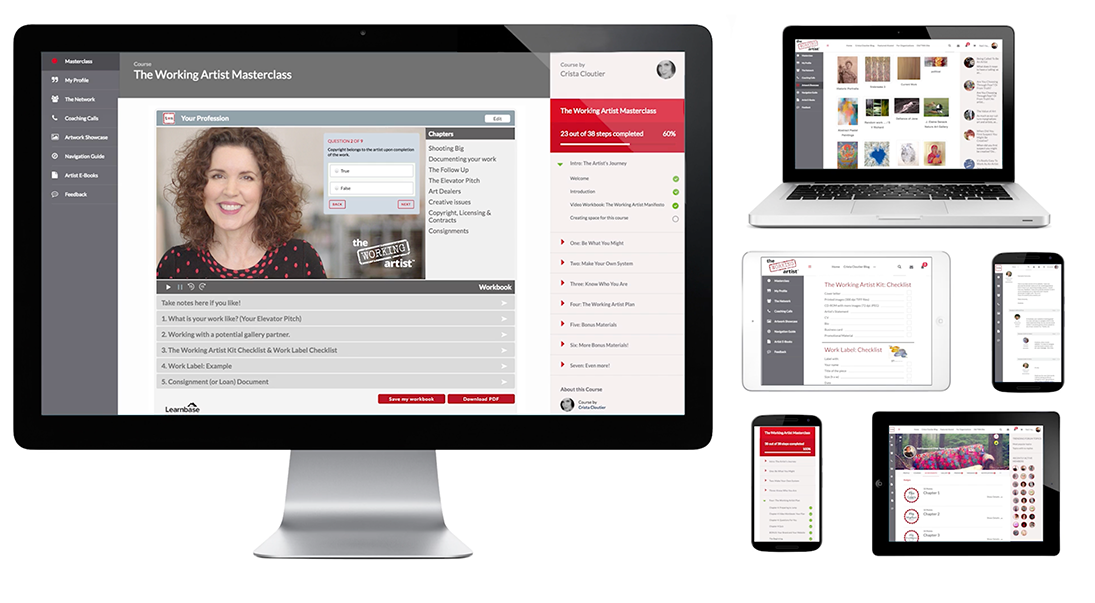 Client: Crista Cloutier's The Working Artist program.
Product: Multiple courses and full-stack WordPress course and business platform.
Highlight: The real and measurable impact that the course has had in transforming the practice and lives of so many artists around the world. Winning awards.
Results: Providing a significant source of income for the client over the last 6 years.
The Ongoing Project:
Crista Cloutier's The Working Artist was one of Learnbase's earliest projects. Since those early days The Working Artist and Learnbase have worked closely together, evolving the platforms, courses and technology as we went. Together we have learned what works, and occasionally what doesn't!
Crista is one of the clients that transitioned with us from our early days on Drupal to our current WordPress work, and an early adopter of the Learnbase Video Lesson Maker format. This ensures that the video is not just subject matter content but also guides the learner through the stages of the lesson, just like a teacher would do in the classroom.
The main challenge was that there were several notable competitors in the space already. What we helped to being to the project was a way of far exceeding the online learning experience of those other courses, which along with the great course content really impacted the learners.
Crista has helped Learnbase learn a lot about what 'solopreneur' clients need and how to weave together those pieces. This means way more than just providing a course platform, but rather a complete e-commerce,  sales-funnel and SEO solution intertwined using some of the great pieces available – the Social Learner theme, Buddyboss, WooCommerce, and the Learndash LMS with our Learnbase Video Lessons Makers front of house.
The real joy for us in when Crista shares the stories of her learners in terms of how the course has not only lead them to sell more art but has transformed their lives:
"I knew absolutely zero about navigating the fine art world before taking The Working Artist course. Becoming a working artist has literally saved my life." – Leslie Jean Bart, New York
See more stories here: https://theworkingartist.com/alumni-profiles/
We asked Crista about her experience:
What prompted you to approach Learnbase?
I was trying to find a  way to deliver an interactive video course.
When deciding which company to work with on your project, what set Learnbase apart from competitors? 
They had created exactly what I had imagined. They listened to me when we met instead of talking at me like the others I interviewed.
What was the specific problem that you wanted to address? How did Learnbase help you to solve that problem? 
I had a vision for how my online course would run. I wanted videos that would pause, attractive downloadable workbooks that lived on the same page, and I also wanted to have a relationship with the people I was working with, not just be an anonymous customer.
How was your overall experience of working with Learnbase at various stages of your project? 
My experience of working with Learnbase for the past six years has been outstanding.
How well did Learnbase deliver the solution that you had been looking for? 
Learnbase delivered solutions flawlessly.
How has the work of Learnbase added value to your organisation's operations? 
My course stands above those of my competition because of Learnbase.
Do you have any other comments on the service you received from Learnbase? 
I am so grateful that I found Learnbase. They offered elegant solutions to every challenge I presented and together, we've created an outstanding experience for my customers.
[Please note Crista has since become a guest Learnbase team member and advisor, sharing her insights into learner engagement, sign ups and course completion. This article was written a couple of  years prior to her joining our team!]